How much does a Logo Design Cost in Singapore – Freelance Logo Designer or Logo Design Agency or DIY
When you have an idea to take your business to the next level, then the first step to step in the digital world is to create an identity for your Business. Yes, logo design is the face of your business. Well now you have decided to have a logo for your business, the next question which comes to your mind is how do I get it done? Is it something which I can download from online or hire a cheap freelance logo designer or hire a professional freelance logo designer in Singapore or Hire a logo design agency or how much the logo design cost in Singapore?
The answer for the above question depends on your budget and view of the logo design. You could get the Logo Design in Singapore for your business starting from $0 to $10,000. The most frequent question I get from clients is how much does your logo design services cost, trying to answer this generic question is quite difficult. The cost for the logo design depends on the requirements, logos are not ready made, it has to be designed based on the business needs and audience preferences.
To get a clear picture of a logo you must first understand what is a logo and what are the benefits your business gets when you have a professional logo and also an overview of the process of designing a logo.
What is a logo?
In layman's terms, a logo is an element or symbol along with your business name. Just element lah why should I invest on this? I can write the name of my company for free, if this is what you think of reading what a logo is then you are wrong. A logo creates a strong visual identity for your business. If suppose you are a startup business having a successful recipe that you feel could attract customers and you have your business named xyz and spread the word of mouth about your business and your competitor also starts a business with the same name xyz with proper branding will your customers not be confused with this.
Hence it is very important to start a business with a proper logo which is professionally designed by a freelance logo designer in Singapore.
What are the advantages of having a professional logo design in Singapore?
Professionally designed business logos always wins and creates a good impression among your customers. If you have a closer look at the logos of some of the businesses like amazon, fedex etc you can see the hidden meaning behind the logos. The colors, font/typography, the elements define the business strategy and this is why you need a professional logo designer. Customers choose to shop or avail services from the business who have a good image.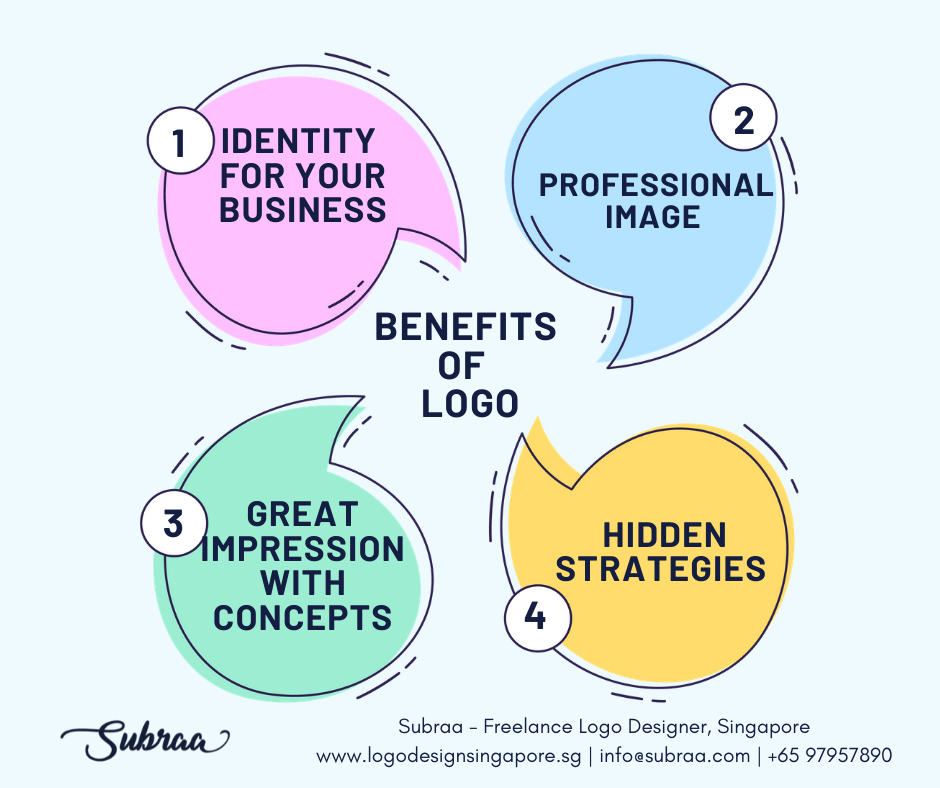 Logo Design process
Designing a logo is not just downloading an element from the web and updating your business name, changing the color and giving you the image.
A professional freelance logo designer in Singapore or a Logo design Agency in Singapore will have a step-by-step process to design a logo. When you approach a freelancer to design a logo, first he would ask you to brief the requirements, your preferences, how you would like to perceive your logo. Then the freelancer will start the logo design by researching your market, your business competitors and start sketching the logo. Once he is satisfied by the desired result then he would start making it digital add in colors, include the business name and do the revisions based on your feedback and provide the final deliverable with all the source files, web and print resolution files for the logo.
How much should a Freelancer charge for a logo design or how much is the logo design cost in Singapore?
When a logo has so much to do and when a logo design process involves many steps to achieve a result then how could you expect it to be free or cheap. Logo designs cannot be cheap and if it is cheap it is not unique. It is being sold to many other businesses like you. A unique logo design cost roughly from $250 to $1000. However a Logo Design agency will charge around $2000 to $10000. However some freelancers run offers and you can avail the same logo starting from $100. 
Budget logos are offered by freelancers as the basic package, this is to boost the startups who run on budgets, however it is good to avoid free logo makers where you download a copy of the artwork, the same copy will be downloaded by many others as well. Subraa, freelance logo designer has some good logo design packages to support your business, all the logo designs by Subraa can be trademarked with no additional charges. Choose the best packages from Subraa now. 
Call or WhatsApp 97957890 to learn more about logo design process and package details.