Should I invest in Logo Design during this Pandemic
Logo is an investment you do for your business and many of the business owners often hesitate to hire a logo designer to design a professional logo for their business. As a business owner you may feel that spending money for designing a logo during this time is not useful, however you fail to recognise the fact that logos give an unique identity to your business. Your customers need to recognise you irrespective of the situation. A good product or service with a unique identity stands for long and it doesn't matter about the nature of the business or in which stage the business is, it is always good to have a logo design.
[caption id="attachment_926" align="aligncenter" width="560"]
Logo Design- Subraa, Logo Designer Singapore[/caption]
It's never a bad time to invest in logo design, when your company is going through a drastic change it becomes inevitable to do some investments in digital to make yourself stand out from your competitors. A brand identity for your products is necessary for your customers to pick you. Investing now in logo design will help to make a huge difference.
Start designing your logo
If you are a startup business or an existing business venturing new in the digital world or starting an eCommerce business to list your products online then you must have a logo to identify your business. People start finding your business via Social media and Google search. When you just have a website without your logo it fails to create an impression on your customers. Customers visualise companies' image through their logo. 
You would have made a presence using your business name with a font created in word document a few years back and may be it is recognised during the early stages of your business, however now the customers perspective have changed. They look for brands along with quality to shop or avail services. When you analyse your business performance online along with your competitors you would find the root cause of why your business doesn't perform well without an identity.
Minimalistic Logo Design approach
It is a myth that complicated logos perform well, it isn't necessarily important to bring down all your services in the form of graphics into your logo design. Logo designers in Singapore understand the market well and could help you with a logo which is minimalistic, reflects your brand image and more importantly has a hidden concept. Though you might feel that the hidden concept doesn't make sense to you as a business owner, it would definitely make an impact among your customers.
In order to make you understand more about the minimalist logo design approach and the hidden meanings behind a logo design, I would detail the logo design using a sample business. Let's take a look at the below logo of a Yoga business, you have hired a logo designer Singapore to design your logo and your logo designer has come out with a combination logo design which includes an element and the suitable font. Lotus is the element your logo designer has chosen to represent your business while you were expecting some yoga postures or some mandala designs behind a yoga posture to represent your business. Do you feel your logo designer has failed in designing your logo? If you think so, then you are wrong.  
Lotus is a symbol of purity, enlightenment and self regeneration. Irrespective of the culture a lotus flower signifies the above, yoga helps in enlightenment and regeneration of self. A circle below the lotus signifies that with the help of yoga you will be complete self. After you read the concept behind designing a logo for your yoga studio, check the design below, now your perspective is different in viewing the logo design concept. Minimalist approach in logo design always wins.
[caption id="attachment_927" align="aligncenter" width="560"]
Logo Design Concept - Subraa, professional logo designer Singapore[/caption]
Logo Design influences your customers
Your business logo cannot be different from one place to another, you cannot have a different logo in facebook and a different logo in your website. Branding should always be consistent. A consistent brand identity starts with a logo design and you can build your brand on top of logo design. A professional logo design influences your customers, when your customers are checking for a product in a rack in the departmental store then your logo would help to influence your customer in opting for your product. A purchase in an eCommerce store depends on the brand image, business owners will agree to this fact and that is why big companies spend a significant amount of investment in branding.
Hire a logo designer now
Now that you have understood how a logo plays a significant role in business and influencing sales, then it's time to hire a logo design Singapore Designer. Though you have a logo which is designed long back, it's time to revamp your logo and redesign based on the current customer base. Your target audiences need something fresh and you should seek the help of a professional logo designer who has significant experience in designing logos. Your competitors are growing so as the market, as you get noticed by the customers it is becoming vital to have a logo designed for your business irrespective of pandemic. In fact it is good to revamp your old logo or get a new logo designed during this pandemic as you need to make a significant impact on your customers and it has become vital to stand out among your competition. 
Logo designs are never cheap and need not be too costly either, Subraa, offers affordable logo design packages for businesses of small sizes to help them gain a unique identity in the digital world. Subraa has over 12+ years of experience in logo design and has designed over 250+ logos and have helped businesses with digital marketing solutions as well. You can reach out to Subraa at +65 97957890 to learn more about logo design and logo design packages.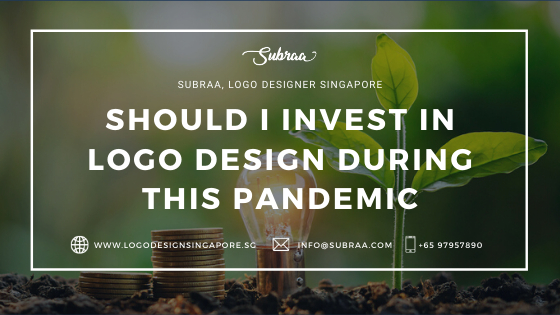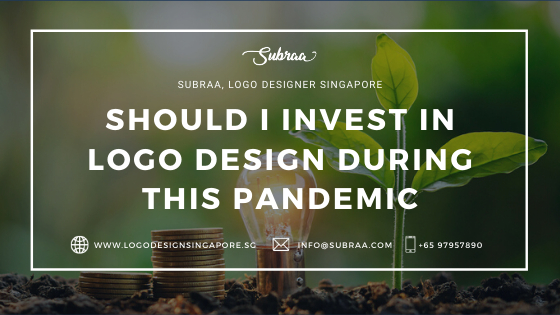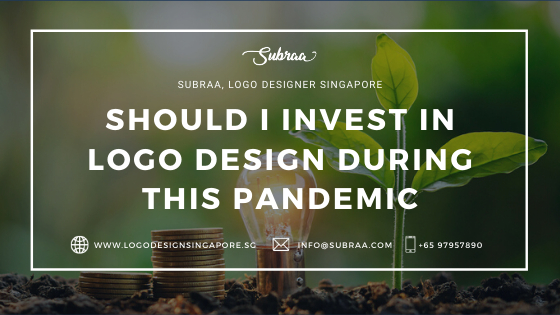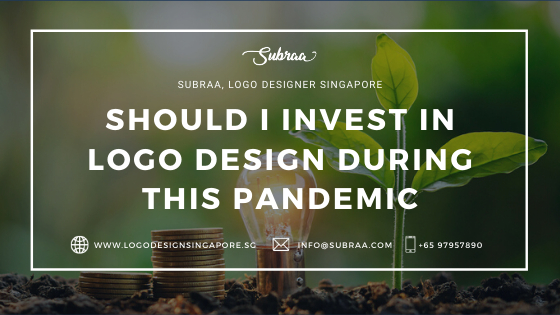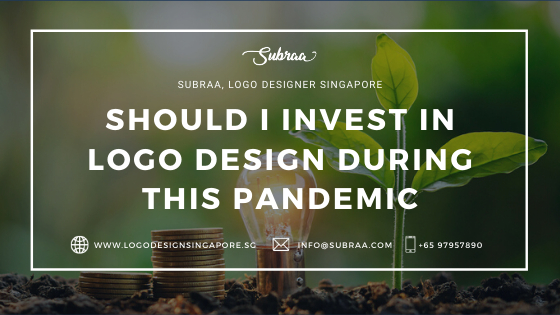 How much does a Logo Design Cost in Singapore – Freelance Logo Designer or Logo Design Agency or DIY
When you have an idea to take your business to the next level, then the first step to step in the digital world is to create an identity for your Business. Yes, logo design is the face of your business. Well now you have decided to have a logo for your business, the next question which comes to your mind is how do I get it done? Is it something which I can download from online or hire a cheap freelance logo designer or hire a professional freelance logo designer in Singapore or Hire a logo design agency or how much the logo design cost in Singapore?
[caption id="attachment_839" align="aligncenter" width="940"]
How much a logo design cost in Singapore - Subraa, Logo Designing Services in Singapore[/caption]
The answer for the above question depends on your budget and view of the logo design. You could get the Logo Design in Singapore for your business starting from $0 to $10,000. The most frequent question I get from clients is how much does your logo design services cost, trying to answer this generic question is quite difficult. The cost for the logo design depends on the requirements, logos are not ready made, it has to be designed based on the business needs and audience preferences.
To get a clear picture of a logo you must first understand what is a logo and what are the benefits your business gets when you have a professional logo and also an overview of the process of designing a logo.
What is a logo?
In layman's terms, a logo is an element or symbol along with your business name. Just element lah why should I invest on this? I can write the name of my company for free, if this is what you think of reading what a logo is then you are wrong. A logo creates a strong visual identity for your business. If suppose you are a startup business having a successful recipe that you feel could attract customers and you have your business named xyz and spread the word of mouth about your business and your competitor also starts a business with the same name xyz with proper branding will your customers not be confused with this.
Hence it is very important to start a business with a proper logo which is professionally designed by a freelance logo designer in Singapore.
What are the advantages of having a professional logo design in Singapore?
Professionally designed business logos always wins and creates a good impression among your customers. If you have a closer look at the logos of some of the businesses like amazon, fedex etc you can see the hidden meaning behind the logos. The colors, font/typography, the elements define the business strategy and this is why you need a professional logo designer. Customers choose to shop or avail services from the business who have a good image.
[caption id="attachment_838" align="aligncenter" width="940"]
How much a logo design cost in Singapore - Subraa, Logo Design Services in Singapore[/caption]
Logo Design process
Designing a logo is not just downloading an element from the web and updating your business name, changing the color and giving you the image.
A professional freelance logo designer in Singapore or a Logo design Agency in Singapore will have a step-by-step process to design a logo. When you approach a freelancer to design a logo, first he would ask you to brief the requirements, your preferences, how you would like to perceive your logo. Then the freelancer will start the logo design by researching your market, your business competitors and start sketching the logo. Once he is satisfied by the desired result then he would start making it digital add in colors, include the business name and do the revisions based on your feedback and provide the final deliverable with all the source files, web and print resolution files for the logo.
How much should a Freelancer charge for a logo design or how much is the logo design cost in Singapore?
When a logo has so much to do and when a logo design process involves many steps to achieve a result then how could you expect it to be free or cheap. Logo designs cannot be cheap and if it is cheap it is not unique. It is being sold to many other businesses like you. A unique logo design cost roughly from $250 to $1000. However a Logo Design agency will charge around $2000 to $10000. However some freelancers run offers and you can avail the same logo starting from $100. 
Budget logos are offered by freelancers as the basic package, this is to boost the startups who run on budgets, however it is good to avoid free logo makers where you download a copy of the artwork, the same copy will be downloaded by many others as well. Subraa, freelance logo designer has some good logo design packages to support your business, all the logo designs by Subraa can be trademarked with no additional charges. Choose the best packages from Subraa now. 
Call or WhatsApp 97957890 to learn more about logo design process and package details.